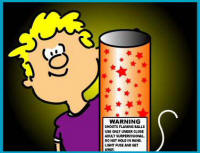 ALWAYS read the warning or caution label carefully and follow all directions.
ALWAYS light one firework at a time. All other fireworks should be kept at a safe distance to prevent accidental lighting.
ALWAYS use fireworks outdoors and away from buildings, plants, dry grass, and combustible materials.
NEVER point or throw a firework at another person or animal.
NEVER hold a firework in hand.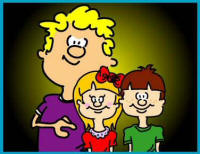 KEEP fireworks out of children's reach. Children should not handle and light fireworks. Adult supervision is a must.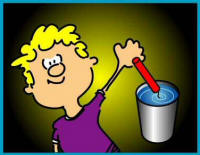 ALWAYS have water handy. Put all used fireworks in a bucket of water. If a firework fails to work after lighting, wait 15-20 minutes and then put it in a bucket of water.
NEVER try to re-light a firework if it fails to ignite.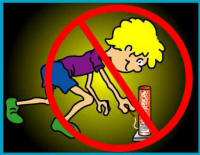 NEVER place any part of your body over the firework when lighting it. Eye protection should be worn when lighting fireworks.
NEVER put fireworks in your pocket. Keep fireworks in their original packing until you are ready to use them.
NEVER drink alcohol and light fireworks at the same time.